The essentials pack is a way to get everything in one purchase.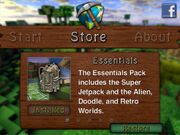 It includes Super Jetpack that allows you to fly better
It includes a new Joining world feature to join worlds (A.KA Multiplayer version)
It includes 3 new worlds, Alien, Draw, and Retro.
It includes more materials that are also exclusive together. (No new actual objects)
It allows you to upload worlds and minigames with limitations and signs all together.
It allows you to have more than one world in the local survers.
Cost: $4.99 Additional In app purchases recommened fees: NO Last Updated: February 19 2016
Ad blocker interference detected!
Wikia is a free-to-use site that makes money from advertising. We have a modified experience for viewers using ad blockers

Wikia is not accessible if you've made further modifications. Remove the custom ad blocker rule(s) and the page will load as expected.