Block Earth's many worlds (excluding Flat) are dominated by trees. Trees are compromised of two parts, the trunk and the leaves.
There are 5 types of leaves, 4 found in naturally generating trees and 1 found in the inventory only.
Note: The fifth type of leaves (the greenest, lower left in picture) are often used for topiary.
Trees can be burned since they are made of wood and the leaves also.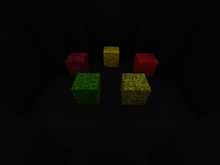 Ad blocker interference detected!
Wikia is a free-to-use site that makes money from advertising. We have a modified experience for viewers using ad blockers

Wikia is not accessible if you've made further modifications. Remove the custom ad blocker rule(s) and the page will load as expected.